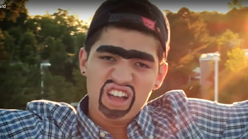 Richard​ is the secondary antagonist of Wassabi Productions . And has a strong crush on Rolanda .
Appearance 
[
]
Richard is basically Alex in a costume . Richard wears a red cap , black shoes and jeans , and a blue long sleeve with white stripes . He has a long black unibrow and beard just like Rolanda except with a Beard
Personality 
[
]
Richard is a really weird and calm until someone dose anything to him or Rolanda .
Video Appearances
[
]
Call Me Maybe (Parody)
Never Gonna Leave You (Parody)
Movin Like Richard
As Long As you Love Me (Parody)
Makeup with Rolanda
We Are Never Getting Back Together (Parody)
Beauty and the Rolanda (Beauty and the Beat Parody)
Sexy Rolanda Style (Gangnam Style Parody)
Wassabi Rewind 2012
How To Be a Gentleman
Valentines with Rolanda
I Knew You Were Trouble (Parody)
22 (Taylor Swift Parody)
Rolanda Goes to Hollywood Feat. Lucas Cruikshank
Can't Hold Us (Macklemore Parody)
Music in Real Life Ft Richard and Rolanda
Treasure (Bruno Mars Parody)
Despicable Me Date with Richard and Rolanda
Cooking with Rolanda
Robin Thicke Blurred Lines (Parody)
How To Say Goodbye
Roar Parody
Miley Cyrus: Wrecking Ball (Parody)
Makeup with Rolanda: Halloween Edition
47 Richard Trailer (47 Ronin Spoof)
Christmas with Rolanda
Wassabi Rewind 2013
Just Girly Things
Valentines with Rolanda 2
Workout with Rolanda
Do Want to Be My Husband
#Pose (#Selfie Parody)
Sea Horse (Dark Horse Parody)
Sexy Couple Sings Disney's Frozen (Love Is An Open Door)
Makeup With Rolanda: Thanksgiving Edition
Soon (Rude Parody)
All About the Chase (All About the Bass Parody)
I Dare You to Watch This Video (Parody)
Makeup with Rolanda: Christmas Edition (Parody)
Wassabi Rewind 2014
Workout with Rolanda Feat. Tony Horton
Valentines with Rolanda 3
Just Girly Things 2
Richard and Rolanda Visit the Shark Aquarium
Back to School w/ Rolanda Feat. Amy Marie Gaertner
Makeup with Rolanda: Thanksgiving Edition
What I Got For Christmas Feat. Richard and Rolanda
Marry Me (Dessert Parody)
Wassabi Challenger Feat Richard and Rolanda
Goodbye Roi Wassabi